Lead generation is essential for any business-to-business (B2B) company. And, as the world becomes increasingly digital, the best way to generate high-quality leads is through your company's online presence.
In this blog post, we'll discuss the top three digital marketing strategies you need to use to get better leads. We'll also talk about how to implement them, including finding the right marketing partner for your business.
Read on to learn more!
An optimized and compelling website
Your website is the online equivalent of your physical store. It's the first thing customers see when they're thinking about doing business with you, so it's important to make a good impression.
it is important to ensure that it is optimized and filled with engaging content. Visitors should be able to find what they're looking for on your site easily, and they should be able to understand why your business is the right choice for them.

Start by making sure your website is well designed and easy to navigate. Then, fill it with high-quality content that is relevant to your customers and clearly demonstrates the value of your products or services.
When you can engage your website visitors, you'll create high-quality leads for your sales team without lifting a finger. In fact, when you work with a marketing team like Local SEO Search, you don't have to put any effort: we take care of your digital marketing while you focus on running your business.
Take advantage of SEO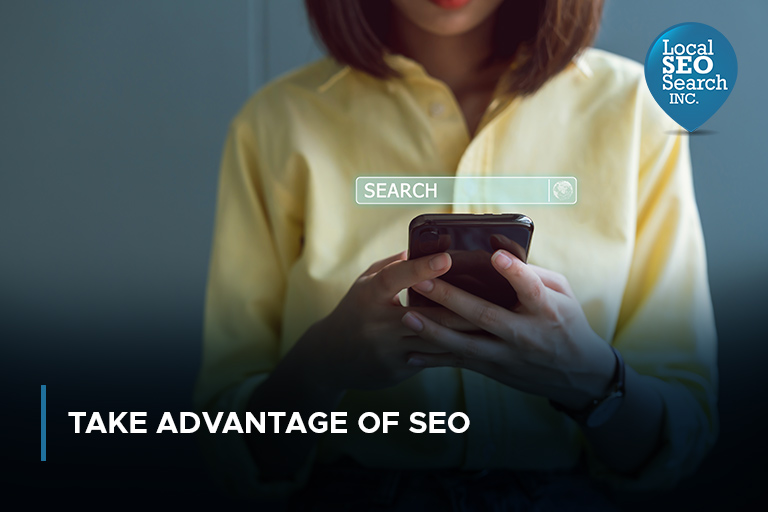 Even the most beautifully designed website won't do much good if potential customers can't find it. This is where search engine optimization (SEO) comes into play. By optimizing your website for relevant keywords, you can help your site rank high on search engine results pages (SERPs), making it more likely that leads will find you.
How be successful in B2B SEO? One of the most important things to remember is to target the right keywords. Keyword research is essential for determining what terms your potential customers are using when searching for products or services like yours. Once you have a list of relevant keywords, you can start incorporating them into your website content, titles, and meta tags.
It's also important to create high-quality content that provides value to your target audience. Search engines favor websites that offer helpful and informative content, so make sure your website is filled with blog posts, articles, infographics, and other types of content to help answer your customers' questions and resolve theirs. problems.
Finally, you'll need to create links. Link building helps improve your website's authority in the eyes of search engines and can also help increase traffic to your website. There are several ways to build links, but some of the most effective methods include guest blogging, directory submission, and social media outreach.
SEO is an ongoing process, which is why so many businesses choose to work with a marketing agency like Local SEO Search manage their SEO and digital marketing. We'll stay abreast of changes in Google's ranking algorithm and make any necessary updates to ensure your rankings are constantly improving.
Build a strong social media presence
A strong presence on social media it is essential for any business that wants to generate leads and grow its customer base. However, not all social media platforms are equally effective for all businesses.
It's important to focus on social media sites where your ideal customers are likely to spend time. LinkedIn is a great option for making connections with other businesses, and industry-specific social media groups can be invaluable resources for finding leads and learning about new trends.
By creating informative and engaging content, B2B companies can build trust and credibility with their target audience, making them more likely to reach out to them when they're ready to make a purchase. Plus, by actively participating in online conversations, B2B companies can further establish themselves as thought leaders in their industry, which can attract even more high-quality leads.
Don't have time to manage social media? No problem! The right marketing partner, like Local SEO Search, can take care of that post relevant content on your behalf so you can focus on what matters most.
Get more B2B leads today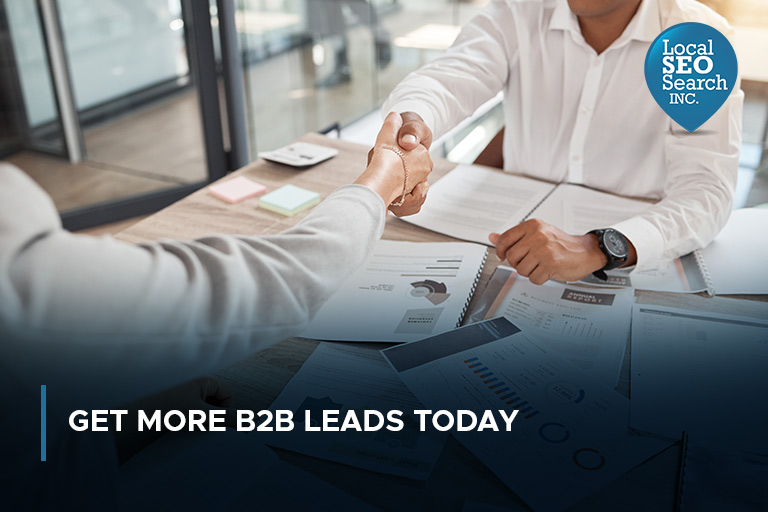 There is no doubt that if you want to get more leads for your B2B business, digital marketing is the way to do it.
The challenge is finding the time to research and implement all the different strategies that can help you generate better quality leads. And this is where we come into play.
Our Local SEO Search team are experts in SEO and digital marketing, especially when it comes to lead generation. So if you want better B2B leads without having to spend hours online researching which digital marketing methods work best, contact us today! We will be happy to put our experience at your service and help you take your business to the next level.