If you're looking to improve your website's SEO, you need to start with a solid foundation. In this blog post, we will discuss the 3 pillars of winning SEO campaigns.
By following these tips, you can improve your website ranking and attract more visitors. This means improving your digital presence and getting more customers, which has a direct impact on the bottom line of your business.
If you are ready to be more successful online, we recommend that you implement these pillars today!
Pillar n. 1: SEO-friendly web design
The first step to success SEO campaigns is to have a well-designed website. Your website should be designed with search engine optimization in mind. This means using the right keywords, having well written content, and providing a good user experience. If your website is not optimized for SEO, it will be difficult to rank high in the search results.
What does it mean to create an SEO friendly web design?
First, you should have eye-catching visuals, images, and videos relevant to the user's goal. This will grab and hold the attention of visitors so they don't leave your website. Instead, they will engage with the content, learn from you, and establish for themselves that you are an authority in your industry.
Second, you need consistent design elements throughout the site; this unifies content and organization with a cohesive feeling. This step is essential in establishing your brand. If I asked you, "Which is red, Coca-Cola or Pepsi?" you would know the answer immediately. This is because both are established brands that have very clear color identification. You want your website to have the same effect – everyone should know they've found your brand based on a consistent design.
Finally, you want the information to be very well organized and easy to find. You should use whitespace, menus and font variations to make the information hierarchy clear. This will allow both your visitors and Google to easily find what they need and will help you rank higher in search results. Most importantly, your visitors won't get frustrated, but they'll be encouraged to spend more time on your website.
Pillar n. 2: quality content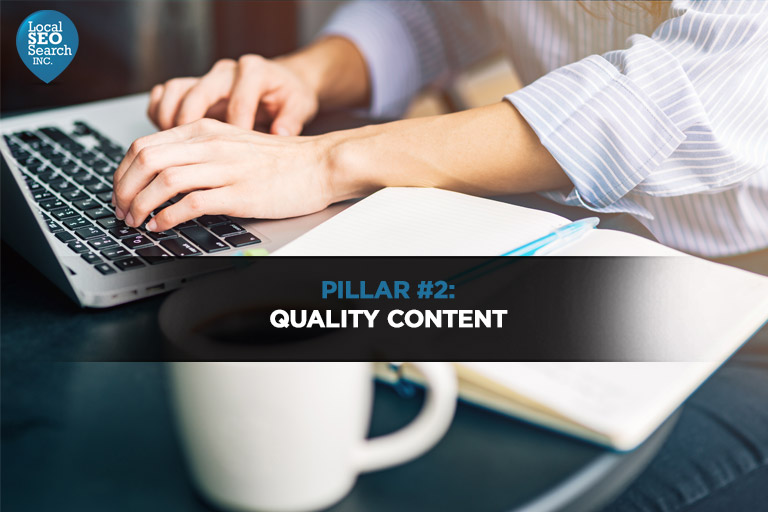 Once you have a well-designed website, the next step is to fill it with high-quality content. This content should be well written, keyword rich, and informative. It should also be updated regularly to ensure that it is up to date and relevant. If your website has outdated or outdated content, it will be difficult to rank high in search results.
Quality content means creating original and well-written articles, blog posts, product descriptions and more. It's not unusual for a company to realize that they don't have the time to do all of this, which is why so many companies partner with a marketing agency like Local SEO Search to get their SEO campaigns on the path to success.
You also need keyword-rich content that is optimized for search engines. This means using the right keywords throughout your website and in titles, descriptions and tags. If you're not sure which keywords to use, you can use a tool like Google Keyword Planner to find the right ones for your business.
Finally, make sure you have in-depth and informative content relevant to the user's goal. This means understanding the intent behind each keyword. When someone enters a search in Google, they are looking for a specific type of result. When you meet this expectation, you will be the link they click on.
Pillar n. 3: continuous optimization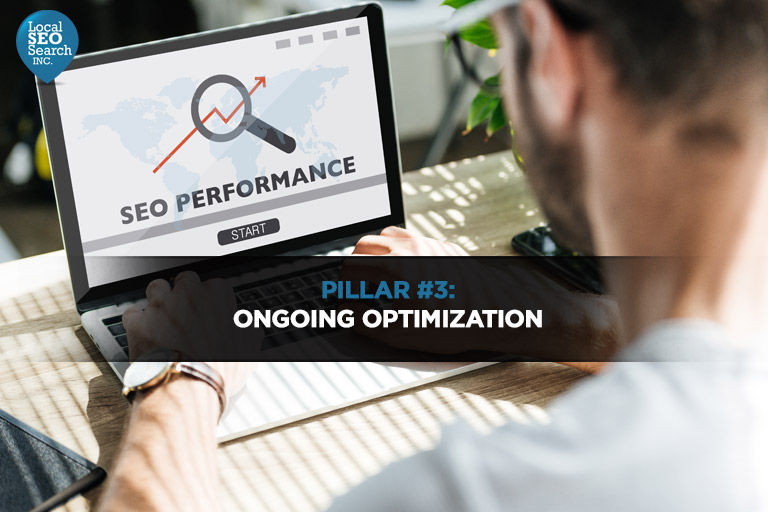 The last pillar is continuous optimization. This means continuously monitoring and improving your website to make sure it is ranked high in search results. This can be done by regularly adding new content, improving your website design, and using the right keywords. If you want to win in SEO, you have to constantly work to improve your website.
For example, if you track your results and find that a particular blog post connects particularly well with your audience, consider creating more content on that topic. Also, look at the keywords in that article and find ways to target them more frequently.
You can also look at other marketing efforts, like social media or paid search ads, and see which message is getting the best conversion results. So, use that message in multiple parts of your marketing.
Unfortunately, SEO is not a set-and-forget process. Like anything in your business, it needs constant improvement. Fortunately, a marketing partner like Local SEO Search can help you stay on top of your digital marketing and give you the results you're looking for.
Are your SEO campaigns winning?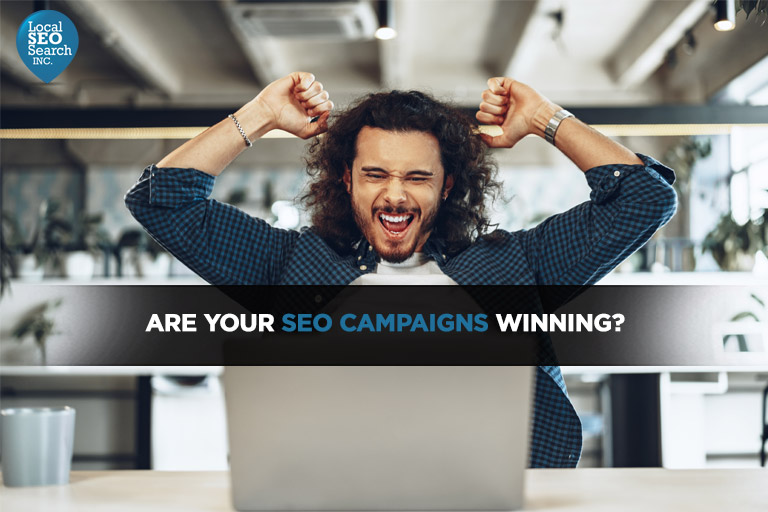 Now that you know the three pillars of winning SEO campaigns, you are equipped to improve your digital marketing presence. Which of these three should your company focus most on right now?
If you'd like to help make a winning SEO campaign a reality, Local SEO Research can help. We have spent many years helping small businesses succeed online – contact us today to see what we can do for your business!