If you are a dentist then you know that online marketing is essential to your business. Not only do you have to attract new patients, but you also have to stay ahead of the competition.
In this blog post, we'll discuss the essentials of on-site SEO for dental practices. We'll explain why onsite SEO is so important and give you some tips on how to improve your website's ranking in search engines.
Understanding SEO on site
When it comes to search engine optimization (SEO), there are two main types: onsite and offsite. On site Dental practice SEO refers to the process of optimizing a website for Google's search algorithm, with the goal of getting a higher ranking in the SERPs. This includes everything from research and keyword usage to making sure your website is fast and secure.
The reason that in-place optimization is so essential is that it's something you have a lot of control over. You can make sure that your website does everything it can to rank high.

Off-site SEO, on the other hand, focuses on the signals other websites send about your expertise, authority, and trustworthiness. Important strategies include using social media, claiming your business profile on Google, and building links from other websites to yours. This helps Google see your site as more authoritative and therefore more likely to rank high for relevant keywords.
Both on-site and off-site SEO are important to any business looking to be visible in search results, which is why many dentists choose to work with a marketing firm that can implement both parts of SEO while focusing on about what they do best — serving patients!
Find and use the right keywords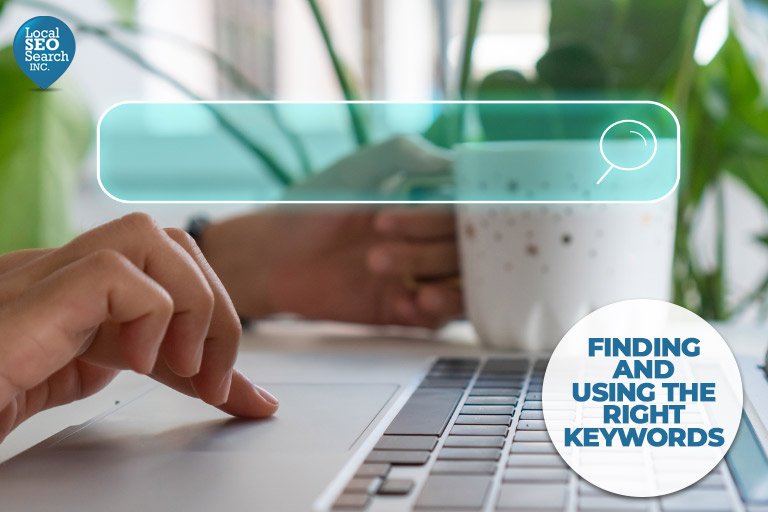 If you're a dentist looking to improve your SEO, the first place to start is finding the right keywords. It's important to find keywords that are relevant to your practice and that potential clients are actually searching for.
There are several tools you can use to find the right keywords, but your best option is to hire experts who have experience researching the right keywords for small businesses like yours. For example, the Local SEO Search team has helped hundreds of small businesses succeed by finding and using the right keywords on their websites.
Once you've identified a list of keywords, you need to start using them on your website and in your content marketing. They should be used strategically, such as in headlines, headlines, and throughout the body of your content.
When your marketing team uses the right keywords, your website will have a much better chance of appearing in search engine results and attracting more patients to your practice.
Show off your expertise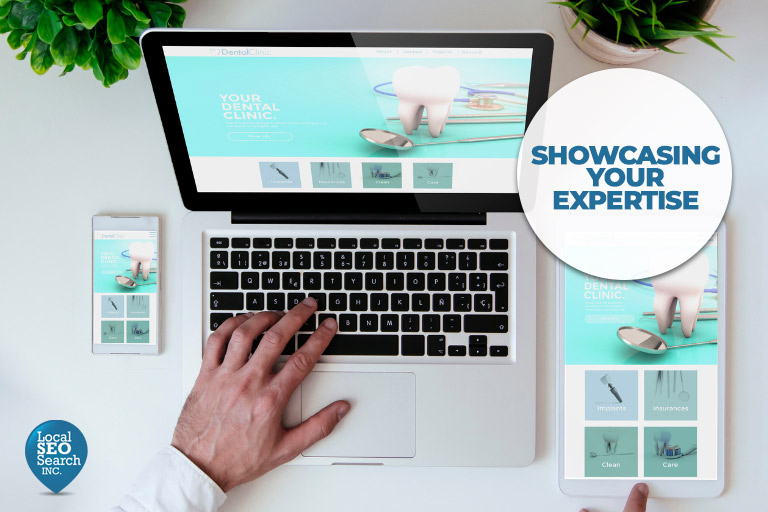 As a medical professional, you know how important it is to ensure that the information you provide is accurate and up-to-date. After all, people's lives can literally depend on it.
That's why Google works hard to ensure that the medical information that appears at the top of its search results is created by trusted experts. So, if you want your content to rank well, it's important to showcase your expertise.
Luckily, there are some easy ways to do this. For example, you can create well-researched, detailed articles or blog posts on dental topics. You can also list your credentials on your website and at the top of every blog post. By following these steps, you will not only improve your chances of ranking well on Google, but you will also build credibility and trust with your audience.
Take advantage of local SEO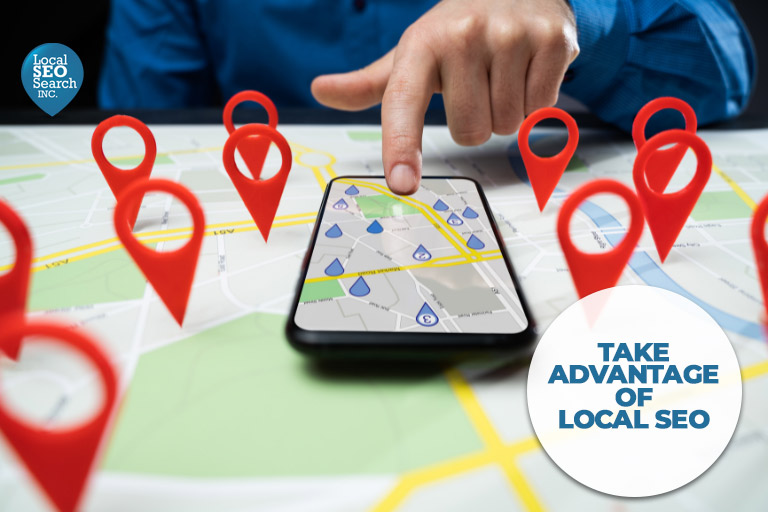 If you're like most dentists, a large part of your patient base comes from those who live or work nearby. After all, it is more convenient to see a dentist near your home or office.
This is why local SEO is so important for dental practices. By optimizing your website for local search, you can attract patients looking for dental services in your area.
First, make sure your NAP information (name, address and phone number) is accurate and up to date. This is one of the most important elements of local SEO.
Next, create keyword-rich, informative content that includes mention of your city, neighborhood, or local landmarks. That way, when potential customers use those local keywords in their search terms, they'll be more likely to find you. Additionally, Google provides specific results to users based on where they are physically located when searching, so being relevant to your target area helps you get seen.
Sounds like a lot? IS! That's why working with a professional marketing partner like Local SEO Search can make a big difference. By following these tips, you can start attracting more local patients to your practice. And with more patients, the success of your business increases!
Keep your website fast and secure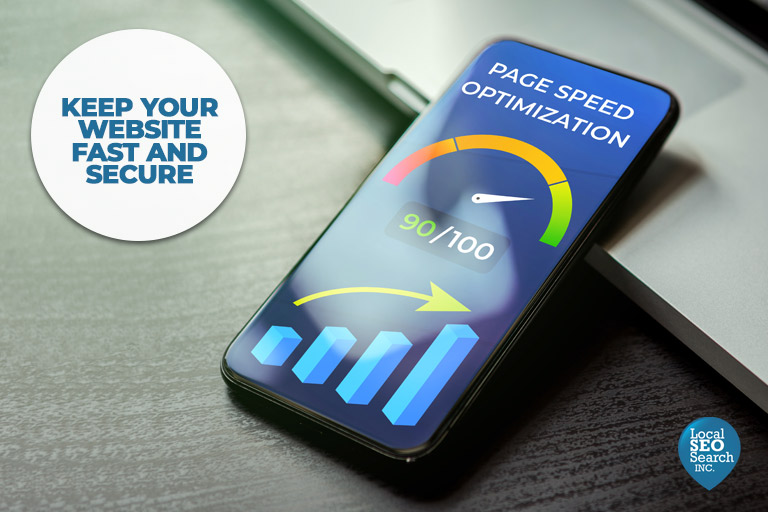 The final step for onsite SEO is to keep your website loading speed fast and your website secure. A fast website ensures a good user experience, while a secure website helps build trust with your visitors.
There are several ways to improve the loading speed of your website, such as image optimization and using a content delivery network. You can also improve the security of your website by installing an SSL certificate and using a web application firewall. By following these steps, you can help ensure that your website is fast and secure.
Get high quality onsite SEO today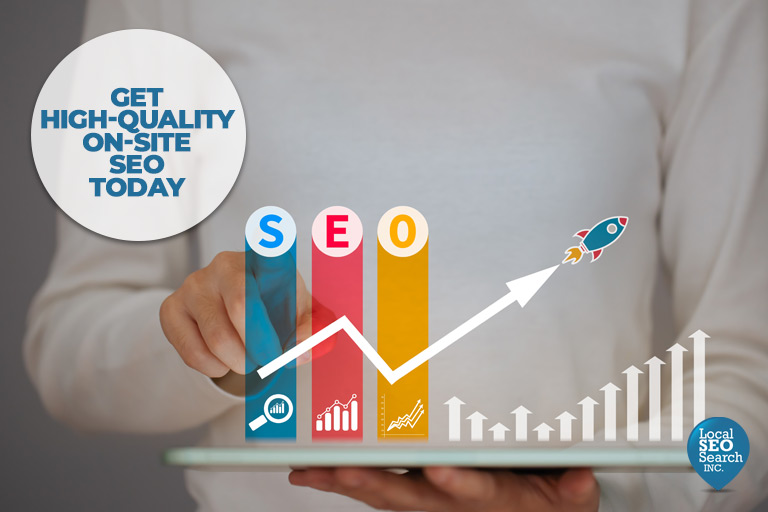 Onsite SEO can be complex, but our team of Local SEO Search experts are here to help. We have the experience and knowledge to get your website to rank high on search engines so you can attract more patients.
If you're looking for a reliable marketing firm that specializes in dental SEO, contact us today! We will be happy to discuss your needs and create a plan that will help you achieve your business goals.