EEAT (or Double-EAT) is a concept used by human quality evaluators to evaluate Google's search ranking systems. Originally, it consisted of only three factors (EAT). But in December 2022, Google added the criterion of "experience" to the concept.
So according to Google, some types of content must be produced with direct experience to be trusted. Here's what that means for SEO.
No, at least not directly. Nothing has changed here from the original EAT concept:
As a reminder, these guidelines are what are used by our search evaluators to help evaluate the performance of our various search ranking systems and do not directly affect ranking (source).
Google's general idea here is to reward (rank higher) quality content that comes from trusted sources. So the messenger is at least as important as the message.
Double-EAT expertise means firsthand or life experience in the subject.
This means that Google will aim to "reward" pages where the author has actually experienced the topic they are writing about. For example:
For an iPhone review, the author must have actually used the product.
For a guide to San Francisco's best jazz bars, the author must have actually visited them.
For an overnight oatmeal recipe, the author must have actually made the dish.
For an article on how to help people cope with an illness mentally, the author must have experienced it personally and/or helped other people.
For a guide on how to be successful in business…you got the idea.
Regardless of the topic of the page, the most important of all criteria is the "T" or trustworthiness. Other criteria, such as expertise, authority, and experience, are there to help determine if the page is trustworthy (QRG, page 26).
You can think of the other criteria as pillars for establishing trust.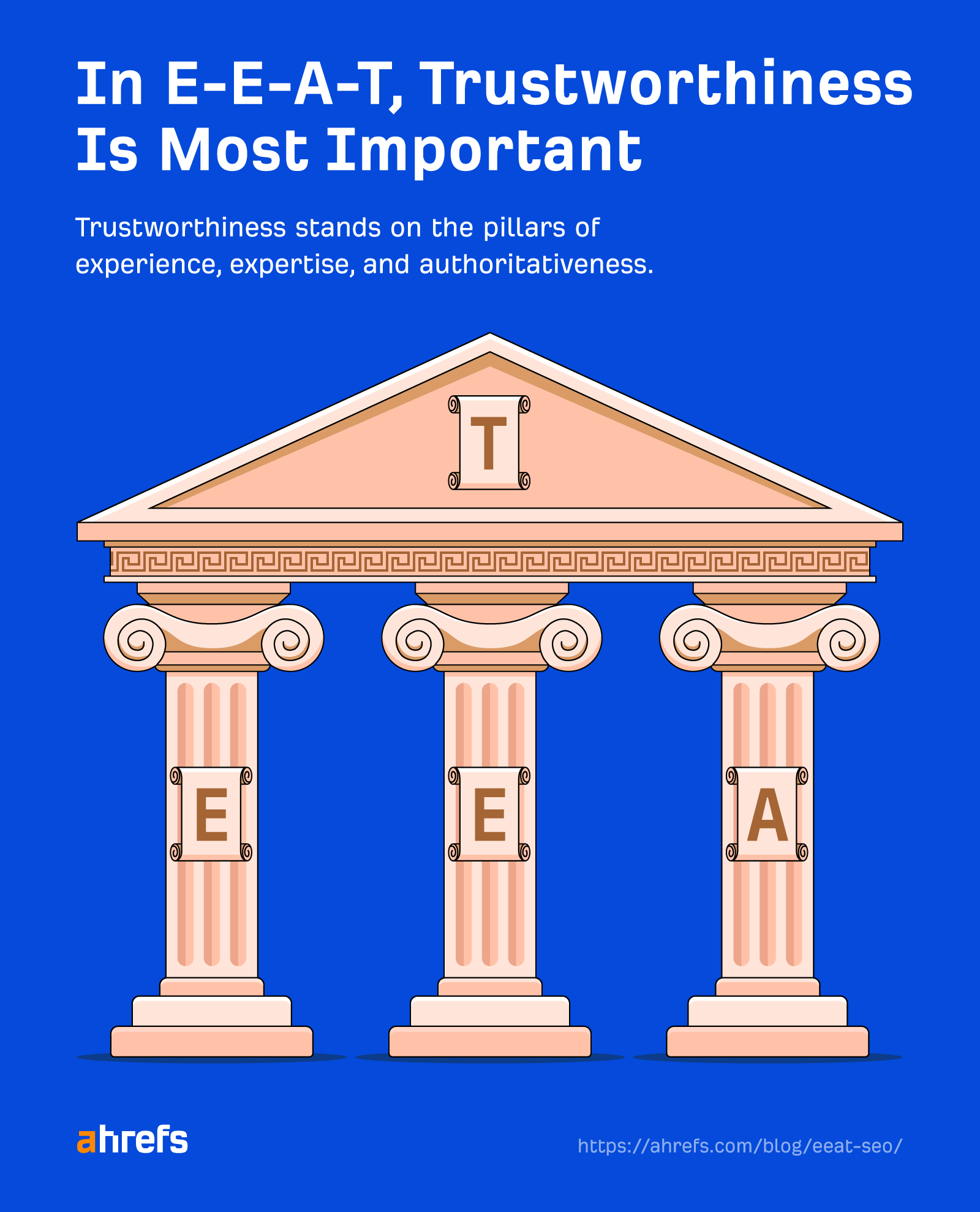 Then, depending on the topic, other criteria come into play. For some topics, experience may be more important than others.
You should consider the page's purpose, type, and subject matter, then ask yourself what would make the content creator a reliable source in that context (QRG, page 26).
For example, a personal travel blog doesn't have to be written by an expert to be trustworthy. Conversely, a guide on do-it-yourself auto repairs is more reliable when it comes from an auto mechanic.
It is worth noting the difference between experience and expertise. Competence is about knowledge and skills. Of course, to get it, you also need experience. But:
It doesn't work the other way around. Experience alone doesn't make you an expert.
Experience doesn't have to come from expertise.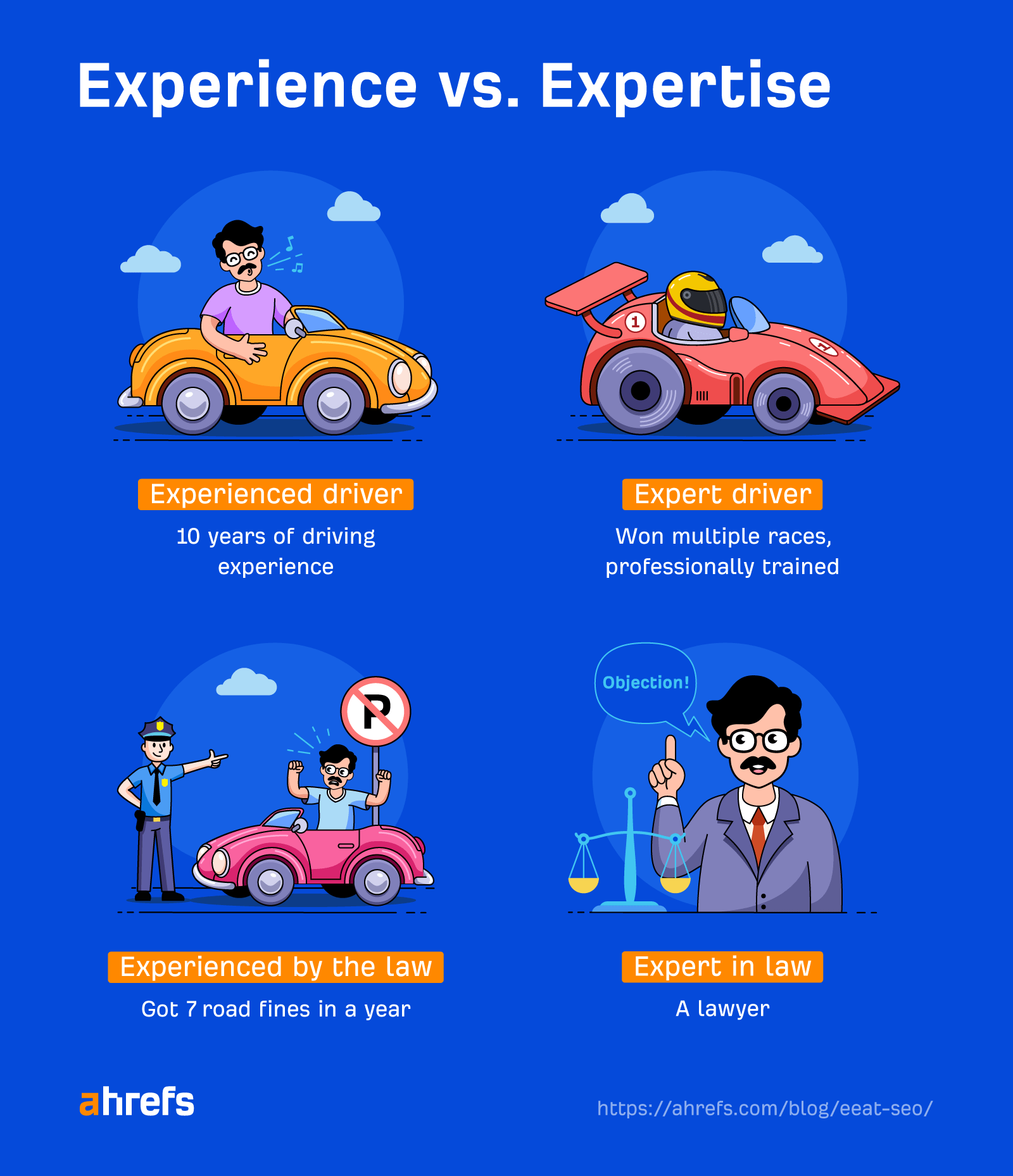 The original concept of EAT has been confirmed to cover all topics. With the addition of experience, Google seems to reiterate this by stating that "experience is valuable for almost any subject" (QRG, page 62).
Experience also counts for YMYL (Your Money or Your Life) topics. But this category of topics that Google pays special attention to is not reserved for experts.
In other words, if personal experience is critical to establishing trust on the subject, the author need not be an expert. Google provides a handy list of examples to better understand this nuance (QRG, page 28):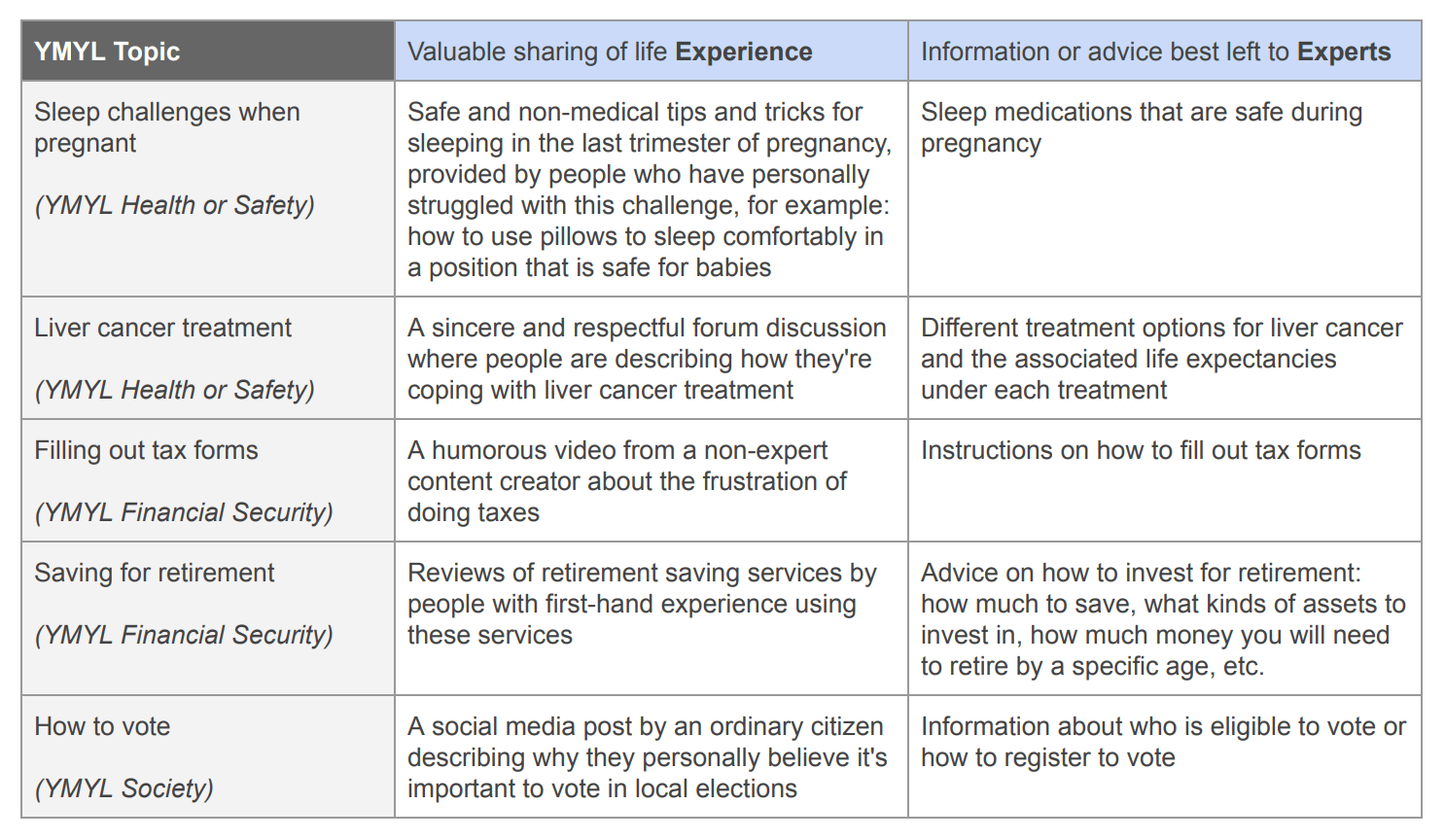 Here are some ideas on how you can demonstrate first-hand experience with your content. Please note that these are based on an interpretation of Google's guidelines; you may find other ways as well.
Show evidence of personal experience with the topic
Take product reviews for example. Google recently addressed the wave of affiliate websites hosting low-quality product reviews with this document. He basically says it's best if the reviews are created by subject matter experts.
However, it's not enough to prove you're an expert. You must show proof of your direct experience with the product being reviewed.
Please provide evidence such as images, audio or other links of your experience with the product, to support your experience and reinforce the authenticity of your review (source).
Here's an example. Thomas Sanladerer is widely known in the 3D printing industry for product reviews of him. But as soon as he stops doing hands-on reviews, he'll be a less reliable source of product information. And this would be due to the lack of direct experience with the product.
Instead, Thomas continues to get his hands dirty with every 3D printer he reviews. What better proof to showcase your personal experience than images like these?

Explain how you created the content
Even before EAT became EEAT, Wirecutter went out of its way to demonstrate why people can trust its reviews. Likewise, you can guide your content with a note about how it was created. A section like this is the perfect place to demonstrate the experience firsthand.

Show your expertise on a dedicated page
Ideally, you don't have to show your expertise with the topic every time you write about it. That's because Google advises quality raters to look at what the author is saying about themselves.
So consider explaining your personal experience with the topic on an "about" page, and even linking to your social media profiles if they provide further evidence. Of course, you can do this in conjunction with other methods of demonstrating expertise.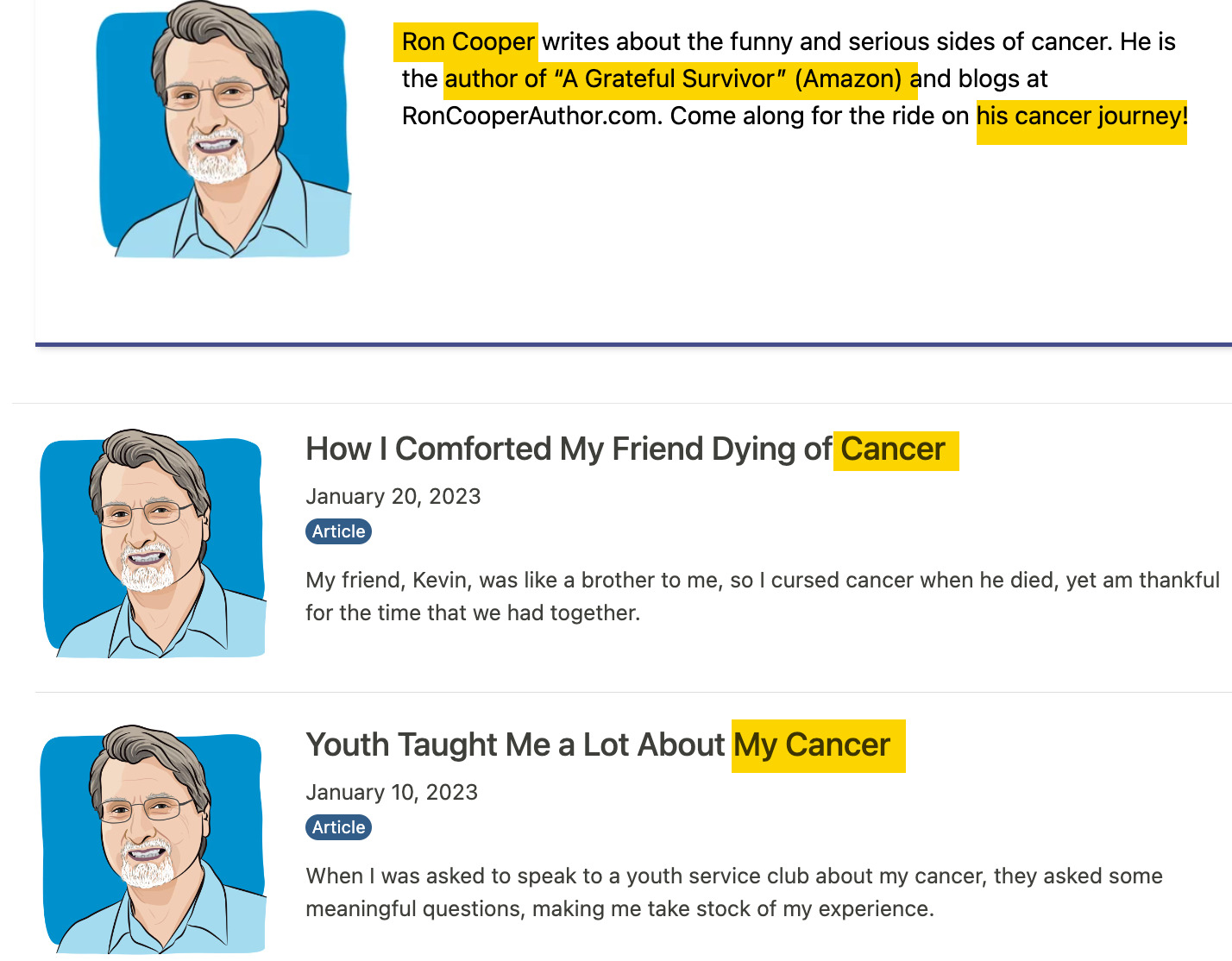 Your reputation matters
Quality rates are also encouraged to look outside your site for signs of experience (and trust in general).
Look for independent reviews, references, news articles, and other credible sources of information about the website or content creators (QRG, page 27).
For example, the Best Wallet Hacks website features an actual table of contents for press mentions. Imagine comparing it to a completely new blog on the same topic that no one has heard of, which one is more reliable?

One way a search engine can infer that information is by following links to a site. After all, Gary Illyes has confirmed that the links and mentions were substantial to EAT's original concept. This has probably not changed since the introduction of experience.
If you lack experience, invite someone who has it
The fact that the author of the page has to demonstrate experience does not mean that the owner of the website has to do the same. This means you can still demonstrate expertise on topics where you don't personally have it by inviting guest authors or guest speakers.
Adding experience to the equation opens up the YMYL topic category for creators with personal experience. On the other hand, it raises the bar on topics where this kind of experience is key.
In any case, this is another attempt by Google to offer more useful and relevant results by filtering out untrusted pages. It's still about trust:
Finally, there are many aspects of Trust, some of which are not captured by Experience, Expertise and Authority. Please consider other aspects in your overall assessment of trustworthiness, such as customer service information for online stores or peer-reviewed publications for academic authors. If a page is untrustworthy for any reason, it has a low EEAT (QRG, page 27).
If QRGs are trained to identify other signs of trust, so are classification systems. So if you can think of other ways to prove your trustworthiness, go ahead.
This is also a warning to sites attempting to cheat the system: a proof of experience won't hide other signs of unreliability.
Final thoughts
Finally, with the introduction of EEAT, Google has updated its guide to self-assessment of content quality. SEOs and content creators can use it as a resource to align content with EEAT.
For example, for publishers using AI to generate content, Google recommends that they disclose the use of automation to the reader (Google is not against AI content). But first, it is necessary to ask whether the use of artificial intelligence to produce content can be seen by the user as reasonable.
Have any comments or questions? ping me on Twitter or Mastodon.